Get a Healthy, Beautiful New Smile
Smile Makeover
Are your teeth broken or crooked? Are they discolored or oddly shaped? Or is your gum line uneven? Get the smile you've always wanted with a smile makeover from Dr. Rodolfo Trigueros.
How would you like your new smile? Sexy, youthful, sophisticated? Believe it or not, there are differences, and Dr. Trigueros can create exactly what you want.
A smile makeover involves more than just your teeth, but your entire mouth and face as well. Dr. Trigueros takes a comprehensive approach to design your new smile.
He analyzes details such as facial symmetry, skin color, lip line and gum contours as well as the shape, size, color, spacing and alignment of each tooth. Even surface texture and light reflectance are precisely matched.
As a result, your new smile will look completely natural.
Know how your smile will look in advance
When you change your smile, you change your whole appearance. That's why Dr. Trigueros makes sure you are comfortable with your choices.
By using digital photography and 3D imaging, he can show you how your new smile will look before the procedure begins.
A smile makeover requires experience, technical expertise, artistic ability, and meticulous attention to detail. Dr. Trigueros delivers maximum results with minimum dentistry. In as few as two visits, he can give you the smile you always wanted quickly, easily and affordably.
A new you awaits. Contact Dr. Trigueros.

Take a modern approach to straightening your teeth
Invisalign Treatment
Would you like straighter teeth and a proper bite, but don't want a mouthful of metal? Invisalign eliminates your concerns.
The clear, removable braces straighten your teeth in less time than ever before. Best of all, they won't interfere with your professional or social life.
Even if you had braces in the past, Invisalign will change the way you think about them now.
Avoid the inconvenience of long term treatment. The technology has improved tremendously.

With Invisialign, you wear a series of clear custom-molded aligners manufactured by computer to very precise tolerances. They're more efficient than conventional braces, so the aligners straighten your teeth in half the time or less.
They're comfortable: there's no metal to irritate your mouth.
They're removable: you eat, brush and floss normally.
They're invisible: no one can tell you're wearing them.
They're effective: over bites, under bites, crooked or crowded, Invisalign can correct it.
See the results before you begin
Dr. Trigueros will scan your teeth using 3D imaging technology. Then he'll straighten them in the computer, so you can see the progression of your treatment and the results to expect before you begin.
Get the beautiful straight teeth you've always wanted without a mouthful of metal. Invisalign is the clear alternative to braces. It's invisible, comfortable, and fast.
Learn more. Contact Dr. Trigueros.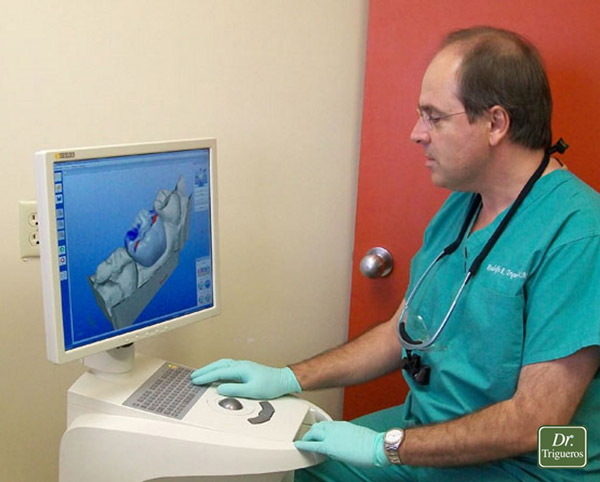 Are your teeth worn, decayed, cracked or broken?
Crowns
Cracked or severely worn teeth don't get better on their own, they get worse. Much worse and you could wind up in the emergency room.
Fix the problem. Repair the damage. Dr. Trigueros can restore your healthy, natural-looking smile with dental crowns.
Crowns strengthen and protect your teeth. They fit snugly and function just like healthy ones. And they preserve your jaw's proper alignment.
Dr. Triguero's crowns are handcrafted, extremely durable and long-lasting. As a cosmetic dentist, he has the expertise to make your crowns look completely natural. Your tooth size and color are carefully considered. Even surface texture and light reflectance are precisely matched.
The result: no one will notice. Dr. Trigueros expertise is invisible. See for yourself. Dr. Trigueros can design, fit, and place your crowns in just a couple of appointments.
Learn more. Contact Dr. Trigueros.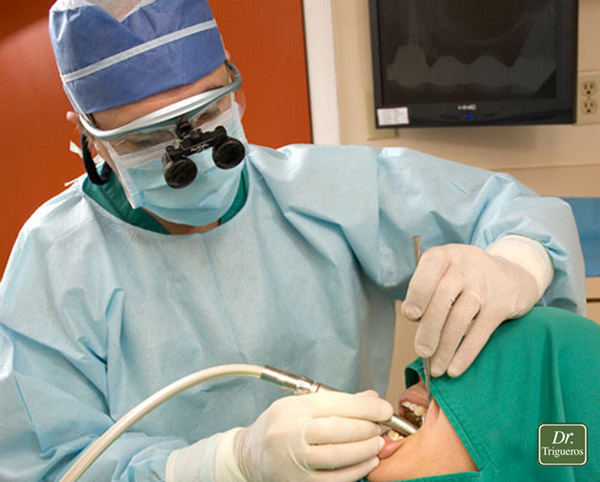 Have you lost your teeth?
Dental Implants
Your only option used to be dentures which can slip, cause chewing problems or bone loss.
Dental implants eliminate those problems. Plus, they don't require special care. You care for implants like your natural teeth. And you'll be able to eat chewy, crunchy, and stringy foods that may have been impossible to chew before.
A dental implant replaces the root of your missing tooth. It bonds with your jaw and anchors your replacement tooth securely.
Here's the best news. Computer guided surgery has revolutionized the placement of dental implants:
It's safe and accurate.
Every detail is planned in advance.
There are no incisions, no stitches.
It's virtually pain free.
One appointment, one procedure, one brand new smile
With computer guided surgery, there's no guesswork. Dr. Trigueros scans your jaw in 3 dimensions and makes an exact model. He then uses the model to determine exactly where your implants will go, creates your new teeth and adjusts the fit — all before you arrive.
When the procedure begins, Dr. Trigueros uses a precision guide to implant your new teeth. As a result, you get safer and more accurate placement of implants than ever before. And when he combines it with PRP you get even faster healing.
For some patients, Dr. Trigueros can even implant their new teeth in an hour.
Either way, you can have permanent teeth that fit perfectly. In fact, they fit so well, it's almost impossible to distinguish your old teeth from the new.
You'll look younger
Dental implants can function like a facelift. They restore lost lip support and reduce wrinkles. Less wrinkles = smoother skin = a younger you.
With dental implants from Dr.Trigueros, you eat a regular meal that night and resume your normal activities the next day. That's because Dr. Trigueros' dental implants are just like natural teeth. They're anchored securely in your jaw.
A new you awaits
With computer-guided dental implants surgery, you can have a complete, fully functional, smile again. Contact Dr. Trigueros.
To learn more about implants, view an educational video below.

Do you have problems with your bite? Are your teeth missing, decayed or broken?
Full Mouth Reconstruction
When your teeth are out of their proper alignment, destructive forces are unleashed. Every time you open and close your mouth, the damage continues. Not only can you have problems chewing, but your teeth can wear or break.
The tension also strains your muscles. Your neck and jaw could be sore and it could even cause headaches.
Full mouth reconstruction combines the science of neuromuscular dentistry with the artistry of cosmetic dentistry to restore the proper relationship between your gums, bones, muscles, and teeth. Dr. Trigueros uses sophisticated computer programs to properly reposition your jaw and create a more comfortable bite. Your new smile moves in harmony with the rest of your face. And, you no longer wake up with sore jaw muscles or headaches.
Have a healthy mouth again.
If you have teeth missing, loose teeth or loss of enamel that requires extractions, you could also benefit from a full mouth reconstruction. Smiles damaged by disease, decay, or trauma may require a variety of treatments. Tooth bonding, porcelain veneers, bone and tissue grafting and computer assisted dental implants are just some of the procedures Dr. Trigueros uses to restore your oral health and create a perfect smile.
Knowing in advance how your smile will look.
Every procedure is customized to meet your unique needs. Diagnostic modeling helps determine the best course of treatments as well as the size, shape and whiteness of your teeth. Thanks to his sophisticated digital imaging, you'll know how your smile will look before the procedure begins. Every detail is carefully considered. The color of the gum tissues will match your own. Your new teeth will have a natural feel and texture. The look is so natural, no one will know. See for yourself.
Look and Feel Younger.
A full mouth reconstruction will dramatically improve your appearance. In fact, it's often called a non-surgical facelift, because the structure of your mouth makes a big difference in the look of your face. You'll look younger. Those sunken cheeks and wrinkles around the mouth will disappear. You'll have less tension in the jaw and neck. And, best of all, you'll have a comfortable bite and beautiful smile Thanks his expertise in advanced computer and imaging technologies, Dr. Trigueros can perform a full mouth reconstruction in as few as two visits. A new you awaits. Get a healthy, comfortable, beautiful smile.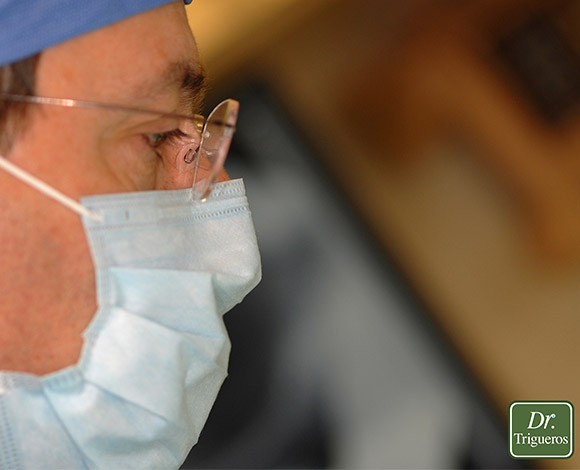 Tired of seeing stained, chipped, or crooked front teeth in the mirror?
Porcelain Veneers
Dr. Trigueros can transform your smile from stained to stunning, crooked to captivating with veneers. How would you like your smile?  Sexy, youthful, sophisticated?  Believe it or not, there are differences. And Dr. Trigueros can create exactly what you want. With veneers, he can change the size, shape, and color of each tooth.
Veneers are thin, porcelain coverings that completely cover the front of your teeth to mask imperfections. As a result, stains vanish. Chips and cracks disappear. Gaps between your teeth close.
No two mouths are alike so each veneer is one-of-a- kind – hand crafted to match your unique characteristics. Dr. Trigueros carefully considers details such as your face shape, tooth size and tooth color. Even surface texture and light reflectance are matched exactly.
Not only are veneers almost as strong as your own teeth, they resist discoloration so your new smile will look and feel natural for years to come. The procedure is simple and comfortable.
Two visits and your smile is transformed.

Faster, simpler and better dentistry
PRF, PRP AND BMP
As a dental researcher, Dr. Trigueros has access the latest technologies. 
PRF, PRP and BMP are powerful techniques to speed healing and ensure the success of your procedure. Depending on your specific needs, he will choose whichever one will benefit you the most.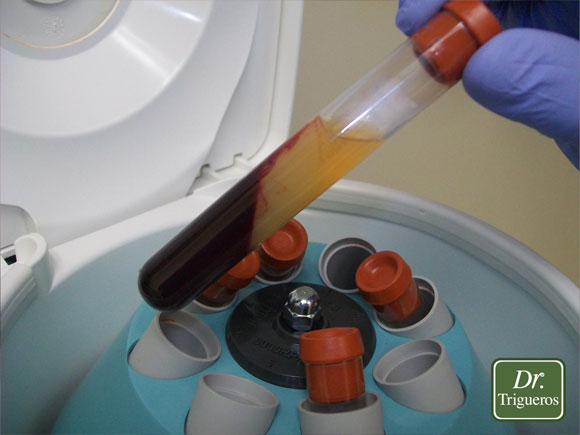 PRF: Platelet Rich Fibrin
Here's the latest in biotechnology that speeds healing: PRF or platelet rich fibrin. It uses elements from your blood to help you heal faster. And because they come from your body, they couldn't be any safer. Scientists have discovered that certain properties of your blood cells, namely: platelets, or more specifically, growth factors found in the platelets can accelerate tissue regeneration. Dr. Trigueros routinely incorporates PRP in his procedures: The procedure begins. The doctor draws a little blood. In a few minutes, he has PRP made from your own body, ready to speed healing and ensure your treatment's success. You won't notice a thing except how quickly you feel better again.
PRP: Platelet Rich Plasma
Dr. Trigueros can ensure the success of your procedure with another safe and proven option, which is PRP. This new biotechnology is a breakthrough in the stimulation and acceleration of soft tissue and bone healing. Growth factors perform a key role in tissue repair and regeneration. They enhance your recovery and speed healing. PRP enables the continuous delivery of a wide range of growth factors around the clock. Consequently, your healing is rapid and more predictable.
BMP: Bone Morphogenetic Protein
BMP is a revolutionary biotechnology that restores bone in your jaw which may have been lost due to missing teeth or other conditions. In essence, BMP is a natural growth factor that promotes the development of new bone then disappears once it has completed its task. Dr. Trigueros can use it to prepare your jaw for dental implants or anchor your implants once they're in place.

Have a question or want to schedule an appointment?
9145 Bird Road, 2D. Miami, FL 33165.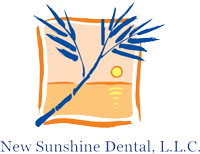 © 2023 Trigueros Dental. All rights reserved.